Flick in the Sticks - Programme for 2017/18
Free film showings twice a month from September to April in the Village Hall. Large screen and surround sound. Refreshments available. Films start at 7:30.

The 2017/18 season of films is here»
Arnesby May Fayre Monday 29 May 2017
Disappointing weather yet again but the serious rain held off until late afternoon. Around 550 cars used our car park and everyone who attended enjoyed the usual mix of things to see, eat and listen to.
Profit from the event is expected to be around £5,000 which will be used to support local organisations and amenities.

The Cross Country race was again popular with nearly 60 adults and 17 juniors taking part. Full results here»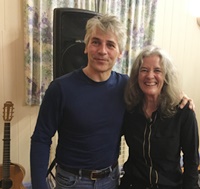 Feb 17th. A concert by husband & wife duo HowdenJones, balladiers, singer/ songwriters and storytellers was enjoyed by a full hall. Using acoustic instruments and exploring folk, blues and contemporary music styles Kate Howden and Paul Jones write all their own material and play guitar, mandolin, fiddle, banjo, ukulele and Bodhran.
Website: howdenjones.co.uk

Arranged by Sue and Brian. Any proceeds will go towards a new hall heating system.
Flicks in the Sticks - 2016-2017 season

The full program of films can be found here (coming soon)
Another successful Arnesby May Fayre! 25 May 2015
An estimated 3,000 visitors on a calm and dry day enjoyed this traditional event and helped to raise over £6,000 for local amenities and also, this year, a donation to the Alzheimer's Society.

Feb '15 Arnesby allotments available for rent
We have 2 half-plots available now:
- They are on the A5199 just outside Arnesby village.
- Mains water tap and car parking on site.
- Rural location = lots of wildlife (including rabbits!).
- The plots are (approx.) 6m x 18m-Cost - this year - deposit of £60 plus £10 rent, then next year just £20 rent.
If interested please contact: Monica Dowson, The Granary, St Peter's Road, Arnesby. tel:2478296
Jan'15 150 Years of Arnesby CE Primary School
Did you, or any family member, attend, or have any connection with Arnesby Primary School during the past 150 years? If so, please come to the school or contact us via email office@arnesby.leics.sch.uk or tel: 0116 2478563 to add names to a register we are compiling.
Birthday celebrations will be taking place in November and we would like to include as many past pupils, parents, staff and governors as possible.
News Archives»»
What's On?
Regular Events
Mon - Fri School Lunch for village residents. £2.70pp Book in advance
Tue Coffee Mornings 10:30 - 12, Chapel. Term time only
Tue Mobile Library 11-11:30 Old Adult School, Ste Peter's Road. Third Tuesday every month.
Wed WI 1st Wed every month.
Thur Pilates 9:15 - 10:15 VH £5 per session.
Contact Jacky Pugh 07974 176382
Fri Parent & Toddler Group. 10am - Noon VH
Term time only.
Fri Fun Club (5 - 11 years) Baptist Chapel
Fri Youth Club (age 12+) 7:45 - 9pm Chapel
June
Sat 17 Village Picnic on playing field (part of nationwide "Great Get Together" in memory of Jo Cox MP)
Sun 25 Open Gardens
July
Mon 3 Flicks in the Sticks Planning meeting for next season. 7pm in Village Hall
August
Mon 28 Loseby Wood Open afternoon
September
Sat 2 Produce Show, Brintingthorpe
Wed 13 Flicks New season Falling Down 7pm VH
Sat 30 Promises Auction Arnesby VH
Houses for Sale

4 bed Det House,
Character property, Paddock view, Two Reception rooms, Breakfast kitchen, Utility & cloakroom, Four Bedrooms, En-Suite & bathroom, Double garage

Contact:

Fox Country Properties, Kibworth

on 0843 3143296


To advertise your property here,
email Terry