The Arnesby May Fayre is back!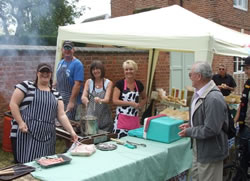 After a break for the Royal Jubilee celebrations the Fayre returns on Bank Holiday
Monday 27th May

A great day out - our usual mix of good food, live music and
entertainment for the whole family!
Plus: the popular cross country run, charity tug of war and craft village.

Activities will include a Bungy Trampoline, Circus Skills workshop, Falconry display, Archery, Cheerleaders and Mini-Golf. Read more about this year's Fayre»

• Stall holders: If you would like to stand at the Fayre,
email Graham@village-web.co.uk
• Cross Country Race details/entry contact Keith at race@village-web.co.uk
Download Race Entry forms: Adult» Junior»
Arnesby Sports Field


On 14th October Sally Smith, Clare Pierce, Sophie Jack & Brian Cox completed the Leicester Half Marathon and raised funds for the
Arnesby Sports Field on Lutterworth Road.
This village project will provide a safe, green open space for our children, the local primary school and adults to enjoy free play and organised sporting activities. Football, cricket, rounders, rugby or just leapfrog, skipping and summer picnics.

Please support this project by
making a donation at: Justgiving.com/ArnesbySportsField»
EMERGENCY SERVICE - If you live alone, and/or would like to ensure support in an emergency, you could join an emergency telephone service.

TRANSPORT - If you do not have transport to leave the village, but you need to do so for any purpose such as shopping, visiting friends, attending appointments, you may wish to use the Lutterworth Community Transport Service.
Read more about these services»
Proposals for part of the field used for the May Fayre car park.
The Arnesby Village Hall Committee has submitted a change of use application for a small area of the field that is used as a car park during May Fayres. The application is to change the use of this land from agricultural to recreational and if approved the land will become a school playing field and a small village hall car park.
Notices giving details of this application have been posted on the Lutterworth Road. Any views about this proposal should be forwarded to Harborough District Council by 28th June. The background to this application and full details are available here» (pdf doc.)
The Queens Diamond Jubilee Celebrations in Arnesby June 4 2012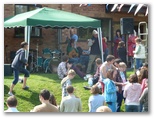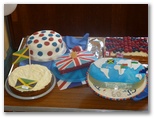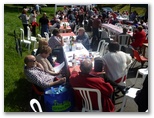 Photo album 1»
Photo album 2 (Steve Gibbs)»
Jubilee Book pages»
The Arnesby Promises Auction March raised £4,500 and this has been split equally between St Peter's Church, the Baptist Chapel, the village hall and we have received grateful thanks from the Sister in Charge of LOROS Manor Croft Day Centre for the cheque for £1,100 which is to be spent on communications aids for day patients.
Well done to Sue Spriggs for once again spending lots of time organising this event.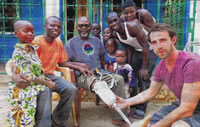 April 2012 Tom changes a life!
Tom Williams of Arnesby changed a Ghanian man's life when he returned to the country after a holiday last November.
Paul Prierra had been struggling witha wooden leg and a zimmer frame since losing a leg to diabetes. Tom surprised him on his return trip by giving him a new false leg. Read more»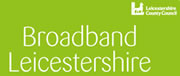 Super-Fast Broadband
Leicestershire County Council is working to identify and deliver the connectivity needs of communities, businesses, and public sector organisations. The County's vision is to deliver super-fast broadband to all premises in Leicestershire by 2017. Deployment of super-fast broadband will commence during 2013. As part of the programme it is critical that the Council understand current issues and future broadband aspirations. They need your support. Please visit www.leics.gov.uk/broadband to complete the questionnaire. Survey closes 30th April 2012 and a report will be published in May. When you complete the survey you can register to receive a quarterly newsletter.
More information: Matthew Kempson (broadband@leics.gov.uk
News Archives»»
What's On?
March
Wed 20 Flicks: A Royal Affair 7:30
Fri 29 Good Friday Workshop Arnesby VH
April
Tue 2 Flicks Salmon Fishing in the Yemen
Wed 17 Flicks My Week with Marilyn
May
Sat 25 Bedding & tomato plants & Rhubarb for sale at Cambridge House 10am - 4pm
Mon 27 ARNESBY MAY FAYRE see panel, left
June
Sat 15 A performance of two of Alan Bennett's "Talking Heads" (travelling theatre group) 7:30 Arnesby VH. Tickets from Sue Spriggs.
Sun 30 Arnesby Open Gardens
Houses for Sale

4 bed Det House,
Character property, Paddock view, Two Reception rooms, Breakfast kitchen, Utility & cloakroom, Four Bedrooms, En-Suite & bathroom, Double garage

Contact:

Fox Country Properties, Kibworth

on 0843 3143296


To advertise your property here,
email Terry