13/9 Historic Churches Ride & Stride 2014.
A big well done once again to Sue Spriggs who raised over £1,100 by riding 4.8 miles to visit 4 churches. Money to be divided the Historic Churches Trust and St Peter's.
Aug 2014 Flicks in the Sticks
The program for the next season of films (2014/15) in the village Hall was agreed at an open meeting on August 6th. See the programme»
Arnesby Cricket Club v Bruntingthorpe, 29th June 2014
Another win for Bruntingthorpe, by 28 runs
Match Scores»
Arnesby Promises Auction Friday 11th July at 6:30pm
Funds raised will be divided between: Village Hall, Baptist Church (Conference Centre refurbishment), St Peter's Church (interior stonework repairs) and LOROS.
There will be a free buffet supper.
The famous Arnesby May Fayre - Bank Holiday Monday 26th May
Food, drink, entertainment, activities - a great day out for the whole family.
More details»
Cross Country Race: Full Results»
14/9/13 Ride and Stride - annual fundraising for Leicester Historic Churches. Well done to Sue Spriggs who once again has represented Arnesby in the gruelling event.
Sue cycled 60 miles while visiting 60 churches and raised a massive £700 for church funds.
Sunday 18th August Arnesby Cricket Club v Bruntingthorpe,
- the revenge match!
Come along to Gumley cricket ground and support the 'lads'!
Why not take a picnic and refreshments and make an afternoon of it!
Sunday June 23rd Arnesby Cricket Club v Bruntingthorpe
The first game of 2013 saw Arnesby CC take on the old enemy Bruntingthorpe at Gumley. After an early rain delay which failed to dampen the enthusiasm of the players, Arnesby batted first and.....
Read more»
15/6 Alan Bennett's "Talking Heads"

A full Arnesby village hall enjoyed a performance by the Library Theatre Touring Company.
Deborah Kelly performed two of the monologues first seen on BBC TV in 1988. "Lady of Letters" and "Bed among the lentils"


Library Theatre Touring Company: 0113 2504803 or email librarytheatre@talk21.com.
The Arnesby May Fayre 2013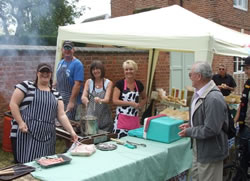 After a break for the Royal Jubilee celebrations the Fayre returned on Bank Holiday Monday 27th May

The Fayre was another great day out - our usual mix of good food, live music and
entertainment for the whole family. The weather was very good, for a change and over 1,000 cars came into the village.
Popular events included the cross country run, charity tug of war and the fascinating craft village.
Visitors were able to try out a bungee trampoline, learn circus skills, see a demonstration of falconry and have a go at archery and mini-golf. The Wigston Band, Bakanalia Morris group and the RDC Cheerleaders team entertained a large audience outside the village hall.
Preliminary results indicate that around £7,500 was made for village funds.

Cross Country Race Results to follow soon
Arnesby Sports Field


On 14th October Sally Smith, Clare Pierce, Sophie Jack & Brian Cox completed the Leicester Half Marathon and raised funds for the
Arnesby Sports Field on Lutterworth Road.
This village project will provide a safe, green open space for our children, the local primary school and adults to enjoy free play and organised sporting activities. Football, cricket, rounders, rugby or just leapfrog, skipping and summer picnics.

Please support this project by
making a donation at: Justgiving.com/ArnesbySportsField»
EMERGENCY SERVICE - If you live alone, and/or would like to ensure support in an emergency, you could join an emergency telephone service.

TRANSPORT - If you do not have transport to leave the village, but you need to do so for any purpose such as shopping, visiting friends, attending appointments, you may wish to use the Lutterworth Community Transport Service.
Read more about these services»
Proposals for part of the field used for the May Fayre car park.
The Arnesby Village Hall Committee has submitted a change of use application for a small area of the field that is used as a car park during May Fayres. The application is to change the use of this land from agricultural to recreational and if approved the land will become a school playing field and a small village hall car park.
Notices giving details of this application have been posted on the Lutterworth Road. Any views about this proposal should be forwarded to Harborough District Council by 28th June. The background to this application and full details are available here» (pdf doc.)
The Queens Diamond Jubilee Celebrations in Arnesby June 4 2012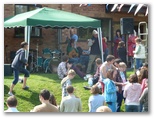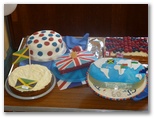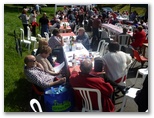 Photo album 1»
Photo album 2 (Steve Gibbs)»
Jubilee Book pages»
The Arnesby Promises Auction March raised £4,500 and this has been split equally between St Peter's Church, the Baptist Chapel, the village hall and we have received grateful thanks from the Sister in Charge of LOROS Manor Croft Day Centre for the cheque for £1,100 which is to be spent on communications aids for day patients.
Well done to Sue Spriggs for once again spending lots of time organising this event.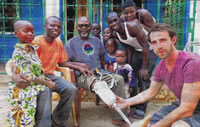 April 2012 Tom changes a life!
Tom Williams of Arnesby changed a Ghanian man's life when he returned to the country after a holiday last November.
Paul Prierra had been struggling witha wooden leg and a zimmer frame since losing a leg to diabetes. Tom surprised him on his return trip by giving him a new false leg. Read more»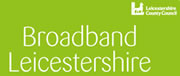 Super-Fast Broadband
Leicestershire County Council is working to identify and deliver the connectivity needs of communities, businesses, and public sector organisations. The County's vision is to deliver super-fast broadband to all premises in Leicestershire by 2017. Deployment of super-fast broadband will commence during 2013. As part of the programme it is critical that the Council understand current issues and future broadband aspirations. They need your support. Please visit www.leics.gov.uk/broadband to complete the questionnaire. Survey closes 30th April 2012 and a report will be published in May. When you complete the survey you can register to receive a quarterly newsletter.
More information: Matthew Kempson (broadband@leics.gov.uk
News Archives»»
What's On?
September
Mon 1 Fitness classes restart in the Village Hall.
Aerobics (6:30) Pilates (7:30) £24 for 6 weeks.
Fri 5 Village Tuck Shop Arnesby VH
Opening Day! Open Tuesday & Friday
Sat 6 Shearsby, Arnesby & Bruntingthorpe Produce Show. B'thorpe VH from 3pm
Sun 7 Shearsby Village Fete
Sat 13 Historic Churches Cycle Ride
Tue 16 Basic Lfe Support Training. Arnesby VH, 7:30 - 9. Arnesby residents.
Sat 20 Macmillan Coffee Morning. Deb Dunn, Mill Hill Road. 10-12.
Sun 21 Summer Concert in Shearsby Church. 3pm Featuring Leicester Phoenix Youth Chorale
Fri 26 Coffee morning, bring & buy, raffle in aid of Macmillan. The Firs 10-12:30
Sat 27 Coffee Morning, Bring & Buy, Bulb Sale
Cambridge House, South Close. 10-12
October
Sat 4 Swap Shop Arnesby VH
Sat 11 Safari Supper Debbie 2799124
Tue 14 St Peter's Harvest Supper. 7pm Arnesby VH Details/tickets from Brian & Sue Spriggs
Wed 15 Flicks: Calvary
Wed 22 Flicks: Mandela; Long Walk to Freedom
November
Sat 8 Swap Shop Arnesby VH
Sat 22 Enderby Youth Band in concert. St Peter's Church at 7:30. Tickets from Canes or Spriggs
Houses for Sale

4 bed Det House,
Character property, Paddock view, Two Reception rooms, Breakfast kitchen, Utility & cloakroom, Four Bedrooms, En-Suite & bathroom, Double garage

Contact:

Fox Country Properties, Kibworth

on 0843 3143296


To advertise your property here,
email Terry